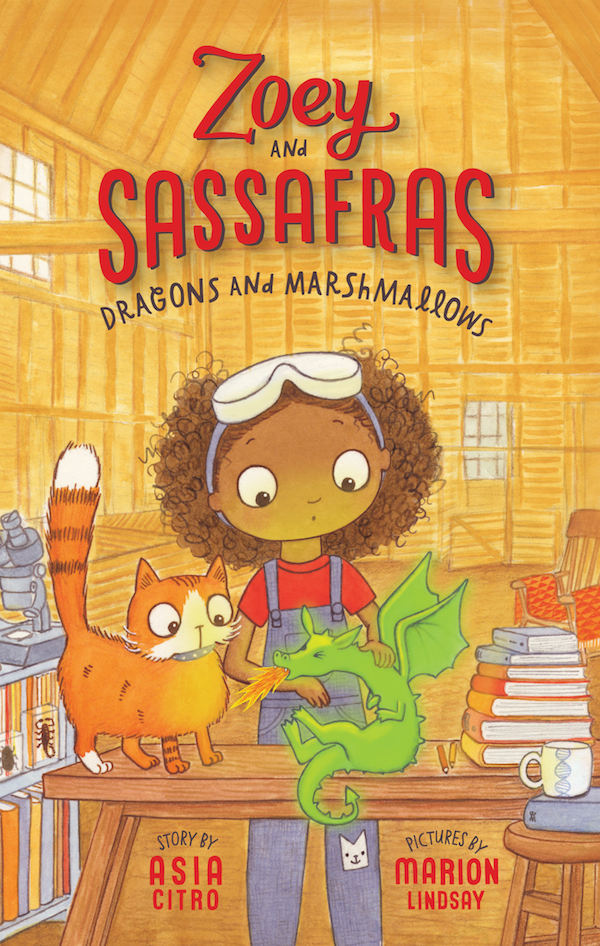 Disclaimer:  I was provided an advanced copy of this book from the author to facilitate this review.  As always, all opinions are my own.
The Facts:  Zoey and Sassafras: Dragons and Marshmallows, story by Asia Citro, Cover Art and pictures by Marion Lindsay, published by Innovation Press 2017 USA, 96 pages, ISBN-978-I-943147-08-3
The Review:  Zoey and Sassafras: Dragons and Marshmallows is the story of a young girl and her pet cat who use science experiments to help a dragon with a problem.  The book is so much more however.  Beautifully illustrated and descriptively written.  The science experiments are things any pioneering parent-child team could replicate at home and there are many great lessons in the book including understanding the difference between omnivores and carnivores and cooking recipes for baby dragons.
This book is aimed towards a youth audience in grades K-5 and explores other themes such as confidence, patience, communication, friendship, learning to get over disappointment and many others which are important life lessons for children in this age range.  The good news is that is book is part of a Zoey and Sassafras series so this is not a one and done experience and continue with the other books in the series.
Bonus:  For every 10 books sold, one book is donated to the non-profit organization First Book.  That means by picking up Zoey and Sassafras: Dragons and Marshmallows, you are helping get this book into the hands of kids and teachers in need.