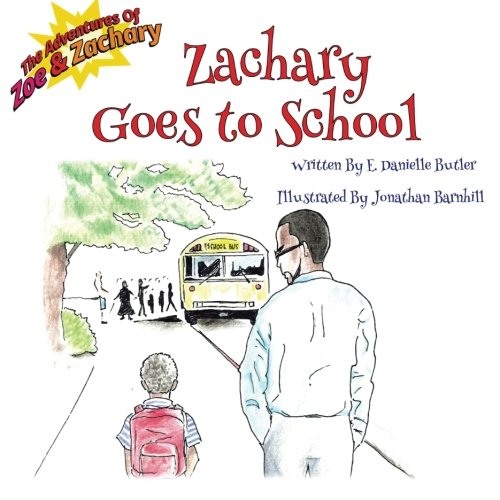 Disclaimer:  I was provided an advanced copy of this book from the author to facilitate this review.  As always, all opinions are my own.
The Facts:  Zachary Goes to School, written by E. Danielle Butler Cover, Illustrated by Jonathan Barnhill, published by EvyDani Books 2017 USA, 24 pages, ISBN: 978-0-9989945-2-9
The Review:  Beautifully illustrated and simply written, Zachary Goes to School, is the perfect book to read to or with your little one before they go to pre-school, daycare, or kindergarten for the first time. Through the eyes of the main character you experience all the feelings most children go through when they get ready for their first day of school, excitement, anxiety and trepidation, and mostly curiosity.  It is a delightful book that you can return time and again even with older children when they are about to embark on something new.
This book is aimed at a younger pre-school and early elementary audience (ages 3-6) and explores themes of making new discoveries, overcoming fear, finding independence, family, adapting to new settings, and more. I read this book with my children who are a little bit older than the target age demographic and it sparked a lively conversation about their memories of their first days of pre-school and "big-kid" school.  This then led to a larger conversation about the feelings associated with new experiences and new environments. Pick Zachary Goes to School up if you have a young one getting ready for school for the first time, you will not regret it!